On this page is a chronological history and review of the Lone Star Impy Flyers and Commercials models (produced from 1966 to 1984).
Then
click here
for a complete list of models including colour variations and many more photos.
Readers with long memories may recall my previous articles on this subject published in

Model Collector

in 1993. Since then, Lone Star collecting has come of age, in common with Hot Wheels and other products which spanned the introduction of low friction wheels. There are now many more collectors, and rare items can reach correspondingly high prices. More material has come to light to help researchers, including copies of trade catalogues (from several sources) and also Geoffrey Ambridge's interesting book of reminiscences and catalogue extracts*. The time seems right to re-visit the story of Lone Star's Impy range, and we have the benefit of colour photography throughout, which only ten years ago was the exception rather than the rule.

Malcolm Bates has 'set the scene' on Lone Star as he put it (

Diecast Collector

, September and October 2003) or, as it seems to me, he took a very broad brush and gave us his impressions of what Lone Star were doing gleaned from trade catalogues without the need to complicate the story with much detail. However, he is right that Lone Star never really managed to match the market leaders in toy cars, who in the late 1960s were Matchbox and Corgi - except possibly when the Hot Wheels phenomenon hit the market, as we shall see. The rest of the time, Lone Star were always in the second division of toy car makers.

Malcolm also pointed out how much Lone Star concentrated on toy guns and other toys unrelated to vehicles. Repeatedly, we find that a range of vehicles was tried, then left in the catalogue for a few years with no new investment, then maybe dropped or re-vamped to try and make some old toys look new and exciting again. It all suggests a rather half-hearted approach, as if the toy cars were less important to the Lone Star management than guns or other products.



The firm was founded in 1939 by Bob Mills and Sidney Ambridge as manufacturers of diecasting machines, and was incorporated in 1940 with the name Die Casting Machine Tools Ltd. They were based at Palmers Green, London N13, and produced the famous M55 diecasting machine which was used by most of the small diecasting firms who set up business after the war. It is known for certain that Lesney, Modern Products and Kemlows all used DCMT machines, and Rodney Smith and Jack Odell of Lesney were former DCMT employees.

DCMT's first toys were introduced in

1946

and were marketed by The Crescent Toy Co. Ltd. They included the well-known Crescent Jaguar saloon, which must have been a big success and sold many hundreds of thousands, because it is one of the most common 1940s toys. Other vehicles were copies of Tootsietoys from the USA - interesting given Lone Star's later connections with Tootsietoy.

From 1 January 1950, DCMT announced that they would be selling direct to wholesalers, and the arrangement with Crescent was discontinued. In the absence of Crescent, they needed a new brand name, and briefly used the name 'Slikka Toy'. Their toys included several metal guns, such as the 'Lone Star' repeater cap pistol, introduced in that year, which was the first use of the Lone Star name. Lone Star was registered as a trade mark in 1951 for cowboy outfits, but was soon applied to all of DCMT's toy output. Expansion followed, and the first of several new factories at Hatfield, Hertfordshire was opened in 1955.



Vehicles did not feature much until 1956 when the 'Lone Star Road-Masters' were introduced, a series of three sports cars and four veterans in about 1:35 scale. They had diecast bodies but plastic baseplates and wheels, making the veterans in particular rather fragile, and they only lasted a couple of years.

The 'Modern Army' series appeared in 1957, and the RAC Land Rover and Caravan around

1959

. In 1960, Lone Star produced a series of four 1:50 scale American cars for Tootsietoy, sold in the USA as part of the Tootsietoy Classic Series, and elsewhere as 'Lone Star Roadmasters' (this time without a hyphen in the Roadmasters name). The 1:50 scale Roadmasters eventually reached 13 items and continued till 1969.

The large scale Roadmaster lorries appeared in 1962, as did the short lived '2-5-0' series of aircraft in 1:250 scale.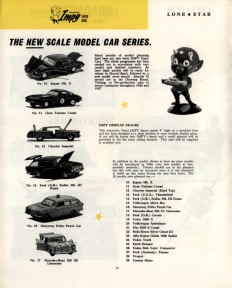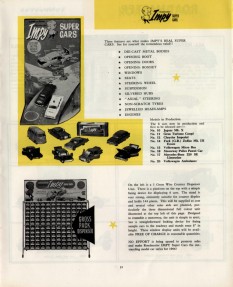 None of these disparate ranges had been sufficiently successful to present much of a challenge to the established toy car makers, so once again Lone Star started from scratch and developed the Impy range, launched in 1966. This was their biggest project yet, the concept being to provide a range of toy cars with every possible operating feature. Windows, interior detail and spring suspension were by then standard on new issues from Corgi and Matchbox, but in addition the Impys had opening bonnet, boot and front doors, jewelled headlights and steering front wheels. Unfortunately, from a collector's point of view, the operating features make the Impys rather poor models, with ill-fitting parts and a standard size of wheel, often too small for the models in order to allow the working steering to operate. Paradoxically, the later low-friction wheels, regarded as a backward step by Matchbox collectors, tend to improve the appearance of the Impys because they are larger in size.

The Impys were around three inches long, significantly larger than most of the Matchbox series to help justify a higher price - initially 2s11d each compared with 2s for Matchbox toys. This may have been a smart move by Lone Star, since it anticipated the widespread increase in size of Matchbox type miniatures in the late 1960s; but the price was a handicap, because Impys were always more expensive than Matchbox, and as Matchbox continued to add new features at the same price level, the extra value in the Impy range was diminished.

The Impy series had more trade names than any other range of toy cars, the full name being 'Lone Star Roadmaster Impy Super Cars', and this was cast on the base of most models and appeared on boxes, catalogues, etc., but the Impy name was given most prominence. The first eight models were introduced in 1966, with a high level of publicity in the trade press, boys' comics, and even

Miniature Auto

(one of the early magazines for model car enthusiasts). Reproduced here are the adverts from

Meccano Magazine

, which ran from August to December 1966 and then from April to July 1967, with a different model in the series pictured each month
(thanks to Meccano Index)
.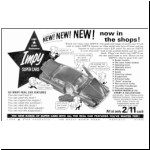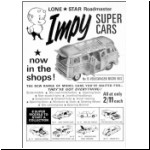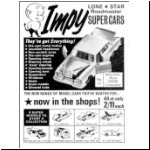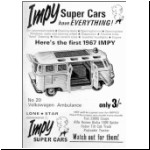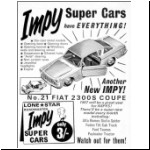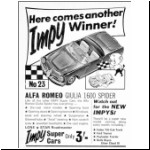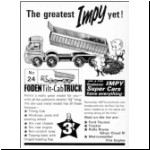 Curiously, numbering started at 10 - surely it can't have fooled anyone into thinking the range was that much bigger? Numbers were never cast on the models. Most models were available in several colours (see

the

listings

for full details of colours and other variations

).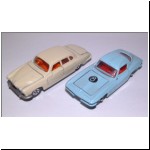 Number 10 was a Jaguar Mk.X, to a claimed scale of 1:64. Why did so many toy manufacturers choose to model this car? Dinky, Corgi, Matchbox, Spot-On and Husky all had a go at it. The Lone Star model seems to be sagging at the corners, as if the resin prototype melted slightly before the die was cut! Not a great start to the range.

Number 11 was a Chevrolet Corvette Stingray, but Lone Star always described the model as 'Gran Turismo Coupe' - presumably they failed to get the appropriate licence from General Motors to use the Chevrolet name. Scale was 1:58. Only the bonnet and doors opened on this model, and unfortunately the top half of the doors remained clearly marked as part of the roof!
Number 12 was a 1963 model Chrysler Imperial to a scale of 1:73, making the standard wheels look acceptable on this model. Note the authentic square steering wheel inside.

No.13 was listed as a Ford Thunderbird but never issued. Perhaps the number was dropped as being unlucky. No.14 was a Ford Zodiac Mk.III Estate to a scale of 1:59. The worst feature of this model was the rather poor grille.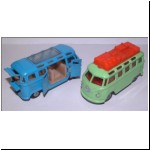 No.15 was a Volkswagen Microbus (also 1:59) which had the double side doors opening but not the main front doors. The rear door and engine cover also opened. The model was spoiled by ugly external hinges for the side doors.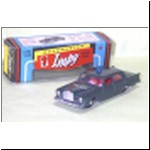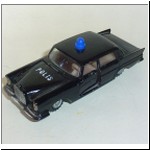 No.16 was listed as 'Motorway Police Patrol Car', usually the Ford Zodiac Estate (no.14) with the addition of a plastic roof beacon and POLICE printed across the bonnet. A police version of the Chrysler Imperial was also issued as no.16, possibly intended for the American market, but it seems to be quite common over here as well. Much harder to find is a dark green POLIZEI version of the Mercedes-Benz 220SE

(for Germany)

which was numbered 16M (presumably M for Mercedes).

Even harder to find are a POLIS version of the Mercedes, for Sweden, and a POLITIE version of the Chrysler, for the Netherlands.
The normal Mercedes was issued as no.17, looking more heavy and cumbersome than the real car, and again having a poor grille. Scale was 1:63. Lastly, no.18 was a Ford Corsair (scale 1:58), completing the 1966 range. This was not too bad a model by Lone Star's standards.

Activity continued unabated in 1967 with the announcement to the trade in January of a programme of models numbered 19 to 31 for introduction throughout the year. Also scheduled were various accessories, gift sets and display material. The retail price of standard models was now 3s.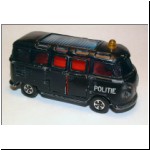 No.19 Volvo 1800S had SCALE MODEL cast underneath without stating what the scale was claimed to be. This is another model, like the Jaguar, that seems to sag front and rear, and the ill-fitting doors contribute to a dreadful side view. No.20 was an Ambulance version of the VW Microbus, with the addition of a roof beacon and a different interior moulding to give beds down either side of the vehicle in place of the minibus-type seats of no.15. There was

also

a special issue of no.20 for the Dutch market in very dark blue with POLITIE on the doors

.

This version can be found with either type of interior.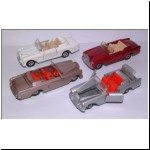 No.21 was a Fiat 2300S Coupe (scale 1:59). I hadn't realised how bad a model this is until I looked at a photo of the real thing recently. The Lone Star model is completely out of proportion lengthwise, relative to the height of the car. No.22 was a Rolls-Royce Silver Cloud Convertible featuring a centre-hinged opening bonnet. I quite like this model, although the grille is somewhat heavy.

No.23 was an Alfa Romeo Giulia 1600 Spider, another convertible, looking awful from every angle!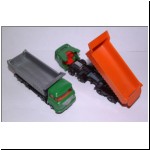 No.24 was the first large commercial vehicle, a Foden 8-wheel tipper with a very nice Foden S34 cab which could be tilted forward to show the engine. The model was only spoiled by the plastic tipper body, usually a garish orange colour. The nicer version with a metallic grey tipper is unfortunately harder to find. The body always had a flat panel on each side, but no labels were ever applied to no.24. The price of the Foden was the same as the cars at 3s.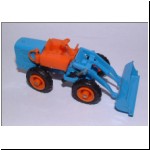 No.25 was an International tractor with lifting shovel and steerable rear wheels.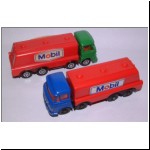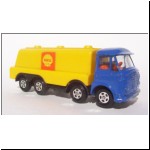 No.26 was at first listed as a Foden Bulk Sugar Transporter (similar to Matchbox no.10) but in fact the model that appeared was a Foden Petrol Tanker, using the cab and chassis from no.24 with a plastic tanker body and 'Mobil' labels. There is a later 'Shell' version about which I have no firm information, and it may be a trial run model (more information from readers, please!)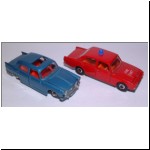 No.27 was a Ford Taunus 12M. Again, like the Fiat, the car is too long for its height (look at the shape of the doors). No.28 was a Peugeot 404, a much better effort with an open sunroof. Both the Peugeot and the Ford Taunus had towing hooks cast with their baseplates, although no trailers were available.

No.29 was listed as a Cement Mixer Lorry, but nothing was issued on this number till 1969.

No.30 was a Merryweather Fire Engine with a turntable ladder on an AEC chassis, quite a good model, using plastic for the extending ladder. No.31 was a Ford Transit Breakdown Lorry with 'Esso' labels on each side, and supplied with a plastic cradle to fit under the front end of a car being towed.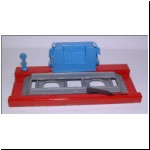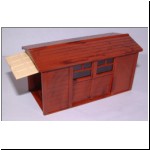 Accessories listed in 1967 consisted of no.401 Car Lifting Ramp, price 3s 11d, and no.402 Lock-Up Garage, price 1s 6d, an all plastic item with up-and-over door. A Service Station was listed as no.403, which may be the vacuum formed item from the 1966 trade catalogue (when it was numbered R16/1). The BP Pumps and sign in the picture are by Matchbox! I don't think this was ever issued.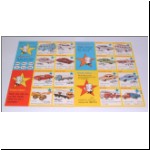 A fold-out leaflet was also issued, dated 5/67. The leaflet had a nominal price of 2d, but was supplied free to retailers. It showed models 10 to 31 inclusive (except 13 and 29) and also the car lifting ramp. The Foden Tanker was shown as a BP version, consistent with the planned BP garage, and promised as 'on the drawing board' were a Cement Mixer, Fire Chief Car and Horse Box, but only the Fire Chief Car ever appeared.

1968 Models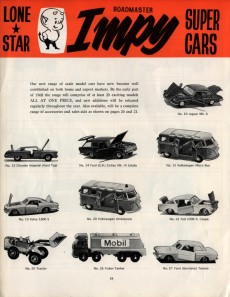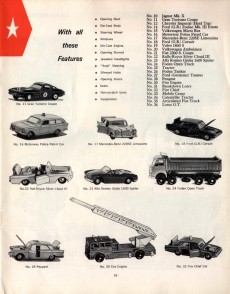 In truth, some of the models announced in 1967 did not appear until 1968, which helps to explain why there were relatively few further introductions in the year. The retail price of standard models was raised to 3s6d.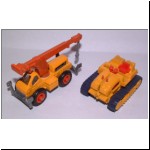 No.32 was a Fire Chief version of the Ford Corsair, with a plastic roof beacon and FIRE CHIEF printed on the bonnet. A FEUERWEHR version was made for German speaking markets. No.33 was a BLH Austin-Western Model 220 Mobile Crane with rotating and lifting jib, and no.34 was a Euclid 82-80 Twin Power Crawler Tractor, a neat little model but rather boring without any operating features.
No.35 was listed in the trade catalogue as an Articulated Flat Truck, but this was never issued, and no.36 Lotus Europa was listed but did not appear till 1969.
No.404 was a 'Mobil' Petrol Pump Island with canopy and a 'Mobil' forecourt sign, price 4s9d, and the trade catalogue showed no.405, a new two-tier Service Station, presumably made in hard plastic, with space for the new pumps. I don't believe this was ever issued, because it did not appear in subsequent years.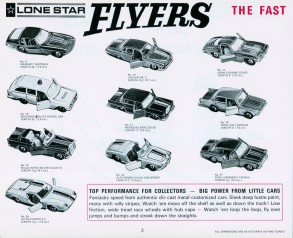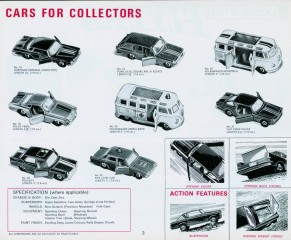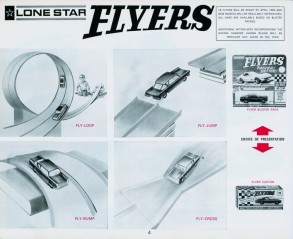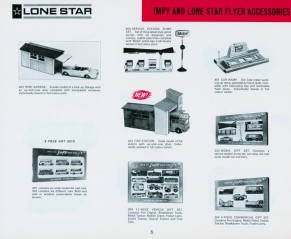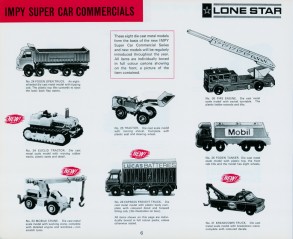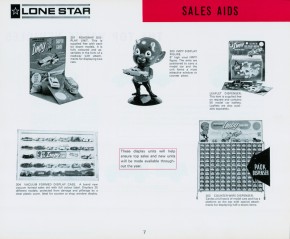 The lack of new models in 1968 concealed intense activity behind the scenes. All manufacturers of diecast cars had been shaken by the instant success of the Mattel Hot Wheels range, launched that year. Their new low friction wheels and gravity racing sets threatened literally to leave conventional diecast cars standing. Like most other manufacturers, Lone Star spent much of 1968 finding ways to convert their existing range to new wheels.

Lone Star's solution was ingenious, and at least as good as any of their competitors. The baseplate of each model was converted to a screw fixing rather than being riveted, to allow the model to be dismantled for servicing - removing carpet fluff, etc. The new thin axles were retained by a plastic piece attached to the inside of the baseplate, with a length of wire incorporated to provide spring suspension (in fact the earliest axle retainers were made of sheet metal, but were quickly superseded by the plastic design). The new black plastic wheels had a shiny ring of foil around the hubs, which still managed to look quite realistic. The steering feature was of course done away with.

The Impy range was split: the cars fitted with the new wheels were known as 'Lone Star Flyers', while the other models, which for the time being retained conventional wheels, were called 'Lone Star Commercials'. The Impy name was eventually dropped, although the Commercials remained in Impy boxes till at least 1971.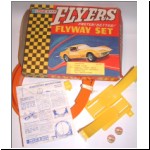 The Flyers were announced to the trade in December 1968, together with 'Flyway' track. Initial deliveries were in April 1969. Flyers were promoted in conjunction with Quaker cereals who gave away over 150,000 cars (six different models) in an on-pack offer. It was designed so that it was unlikely that a child would get more than one free car, and each model sent out included a leaflet showing 18 Flyers models to encourage further sales.

As well as the change to the wheels, the Flyers were given new colour schemes, mostly metallic colours with contrasting stripes printed on the bonnet and boot. Jewelled headlights were deleted, and the base lettering was changed to blank out the word Impy. A change was also made on the Volkswagen so that the engine cover no longer opened.
The 18 Flyers models comprised the 16 cars from the Impy series and two new additions - no.36 Lotus Europa appeared late in 1969, and no.9 Maserati Mistral GT Coupe (spelled 'Mistrale' by Lone Star, in error) followed in 1970. The Maserati in particular is a quite acceptable model, and shows that at least sometimes Lone Star's designers could get it right. The rationale for going back to use the number 9 is unclear. It might make sense if, say, new Flyers used low numbers and new Commercials used high numbers, but if that was the idea, Lone Star soon forgot about it again!

There is no doubt that Lone Star were first off the mark among British diecast manufacturers with the introduction of low friction wheels, and in the early months of 1969 appeared to have a great advantage over Matchbox, who were still trying to promote their troublesome Motorised Motorway. It was not until June that Matchbox were able to announce their Superfast models - initially only three models, and not immediately available. Lone Star were also first with a removable chassis - Corgi Rockets with this feature were not launched till October. Price was still a disadvantage, however, because Flyers were 3s6d each compared with 2s4d for Matchbox, and in the long run, as we know, Lone Star could not sustain the initial head start that they had on Matchbox.

Stan Perrin, who was DCMT's last managing director, wrote: 'We were all the time trying to establish a niche in the market between Matchbox, Corgi and Dinky... Only once did we get ahead of them, and that was when we introduced Flyers, and this only because we were allowed into the Mattel stand at the New York Toy Fair, saw the first demonstration of their Hot Wheels and decided this was the way to go... we did fantastic business in Japan and the USA'. (Quoted in Geoffrey Ambridge's book*).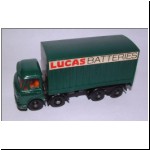 One new Commercial appeared in 1969 as no.29, using the Foden eight-wheel cab/chassis with a new plastic body representing a canvas side type of box van. This had 'Lucas Batteries' transfers, changed in 1970 to 'Express Freight' labels. Later there was a special issue of this model for Japan with labels in Japanese characters which translate (I am told) as 'National Railway Container'.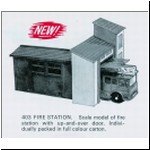 No.403 Fire Station was shown in the 1969 trade catalogue as a new item (and had earlier been listed on boxes as no.406). This was basically the lock-up garage no.402 with an additional building frontage. It was also shown in 1970, both as no.403 and in a set no.414 with a fire engine and fire chief's car, but I doubt whether it was ever issued.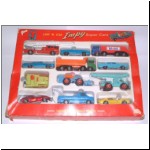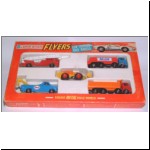 The two Gift Sets pictured here were first shown in the 1969 catalogue.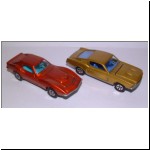 In 1970, Flyers increased in price to 3s9d. The trade catalogue illustrated four new cars:- no.37 Ford GT40 was never issued, and no.40 Cadillac did not appear till 1976, by which time it had lost its planned opening doors, bonnet and boot. No.38 was a new Chevrolet Corvette Stingray, a more up to date car than the old Corvette, which was still no.11. The model was spoiled by ill-fitting doors. No.39 was a nice Ford Mustang.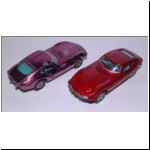 Listed but not illustrated in the catalogue were no.8 Ford Capri (never issued) and no.13 Toyota 2000GT. The Toyota was another good effort by Lone Star, and on this model a coloured plated finish was tried (like on the Corgi Rockets) as well as a conventional paint finish. Either for cost or technical reasons, this plated finish was not extended to the rest of the range.

The coloured plated finish has also been seen on no.9 Maserati and no.21 Fiat.

The three new cars only appeared very late in 1970, possibly not till 1971, and are all quite hard to find now, even though they ran for several years more. It is likely that sales of Flyers were already in decline after their first big impact.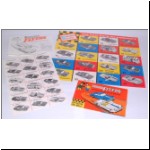 A fold-out Flyers leaflet was issued in 1970, illustrating 19 models including no.37 Ford GT but not the other new items. The cover price was 3d.

New wheels and the Firenza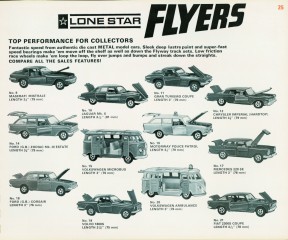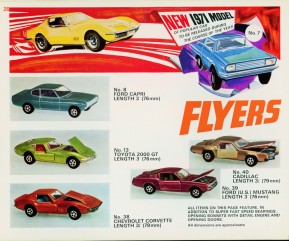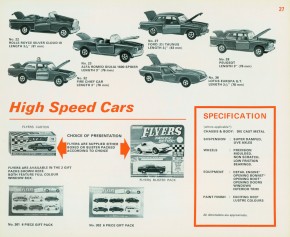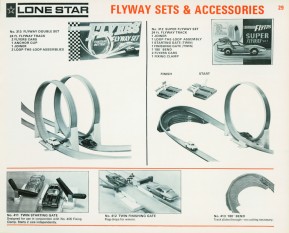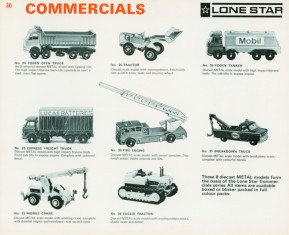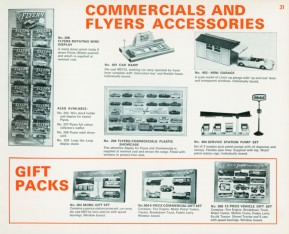 A major change to the Flyers range occurred in 1971, when the low friction wheels were changed from the shiny ring style to a five spoke design, more typical of other manufacturers' wheels. This new design was less realistic but perhaps made it more obvious to a purchaser that the wheels were a low friction type - in this respect Lone Star had come down to the lowest common denominator of diecast toy design. Associated with the wheel change, the FLYERS name was added to the baseplates where IMPY had previously been blanked out, and the coloured stripes were now generally left off. The new numbers 13, 38 and 39 all had the new wheels from the start, and the 1971 retail price was 4s6d.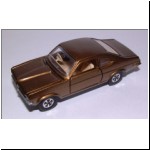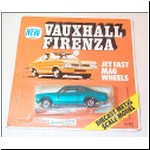 The 1971 trade catalogue continued to illustrate the Cadillac and there was now an 'artist's impression' of no.8 Ford Capri. Also featured in the catalogue was 'No.7 - New 1971 model of popular car to be released during the course of the year'. This of course was the Vauxhall Firenza, and the secrecy was because Lone Star had been given exclusive rights to produce a model of this car, in order to launch the model and the real car on the same day, 26 May 1971. Vauxhall in turn used the Lone Star model for promotional purposes. Initial supplies were sold in a special blister pack with a large backing card and included a leaflet which was a miniature of the brochure for the real car. The price (following decimalisation) was 25p (5s).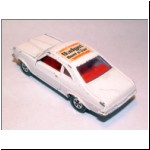 The result of the collaboration with Vauxhall was an excellent model which captures the look of the real car very well. It had opening bonnet and doors and came in a very wide range of colours. There was also a promotional by Budget Rent a Car in the form of a white painted model with a label on the roof.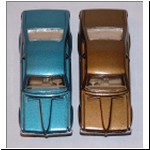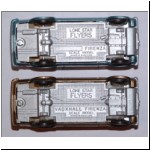 Another unusual variation of the Firenza is a left hand drive version. Not only was the interior moulding changed to cast the steering wheel at the left rather than the right, but the base was changed to blank out the VAUXHALL name, leaving just FIRENZA, and the body casting was changed to remove the VAUXHALL name between the rear lights. This version came in a red and white box with just the Firenza name printed on it, and the example shown came from Canada - I believe the real Firenza may have been sold in that market without using the Vauxhall name. After producing a promotional run of this version, presumably some of the modified components remained and were used up in normal production of the Firenza, although they are not common.

For example, the 'Budget Rent a Car' model pictured does not have VAUXHALL cast at the rear, but does have VAUXHALL on the base.



Despite being produced for several years, the Firenza can be hard to find and it is certainly sought after because it was so nicely done and has so many variations. Any Firenza will now command a premium price over other Flyers.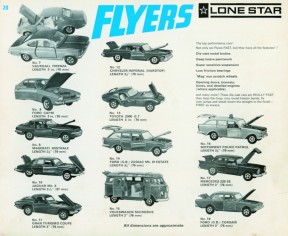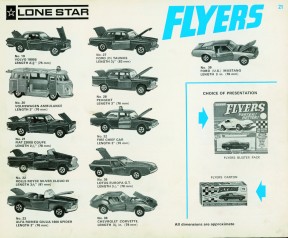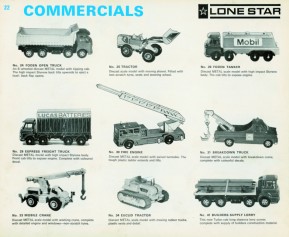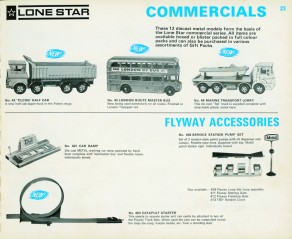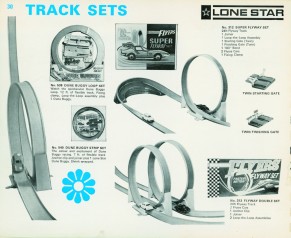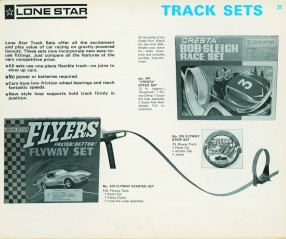 Having concentrated on converting the Impy cars to low friction wheels, the Commercials range was badly in need of some innovation. New models and new wheels were therefore planned. Low friction 'Hi-Speed' wheels were introduced on all the Commercials except for the tractors and crane (nos.25, 33 and 34), and four new models were shown in the 1972 trade catalogue.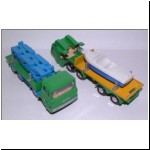 A model of the Leyland gas turbine truck was introduced, using the existing eight-wheel chassis with a new tilt cab and diecast flatbed body. This was available as no.41 Builders Supply Lorry, with a load of plastic girders, or no.44 Marine Transport Lorry, with the plastic speedboat from the Tuf-Tots range. Two separate diecast bolsters plugged into the flatbed to support the load - later the

bolsters were omitted, and then the

casting was changed to incorporate four posts in the body casting.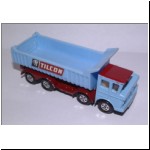 Another new eight-wheeler was no.42, consisting of a new Foden S50 Half Cab married to the no.24 chassis and tipper. This was in the attractive 'Tilcon' livery, and was used as a promotional by that company. Early examples still had FODEN TILT CAB cast underneath, but this was later deleted. The half cab could not tilt, being riveted centrally.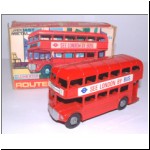 No.43 was shown in the catalogue as a Routemaster Bus, with normal black plastic wheels (not low friction wheels). In the event, this model was not included in the Commercials range, but was introduced as no.1259 and had oversize plastic wheels with separate tyres as used previously on the 1:50 Roadmaster cars.

The no.8 Ford Capri was again listed in 1972, for the third year running, this time with an illustration which seems to be a photo of the real car. I did hear that a die was made for the Capri, but that seems unlikely since photos of a trial model could then have been used for the catalogue. The Capri could have been a good stablemate for the Firenza, but sadly I think it never made it into metal.

1972 was the last year in which the car ramp and Mobil pumps were listed, although they continued in a gift set till the late 1970s. The lock-up garage was last listed in 1971. 1972 was also the last year for the Flyway track sets and accessories.


A fold-out leaflet was produced for 1972 showing the Flyers, Commercials and Tuf-Tots.

After 1972, Lone Star rather lost their way with the Flyers and Commercials ranges, with little in the way of new models or product development. Perhaps the wider economic and political situation meant that it was hard enough just to keep production going - or perhaps the sudden death of the company founder and chairman Bob Mills in July 1973 left Lone Star directionless (Sidney Ambridge had retired in 1969).



The Flyers and Commercials were not included in the 1973 Lone Star trade catalogue - presumably this was because the fold-out leaflet was used to show the range to buyers.





Re-vamped Commercials


It was not until 1975 that some more changes were made to the Commercials range. The two Foden tippers (nos.24 and 42) were dropped, no.30 Fire Engine was given a plastic baseplate and turntable rather than metal, and no.31 Breakdown Lorry also gained a plastic base.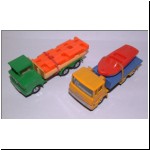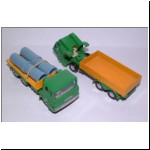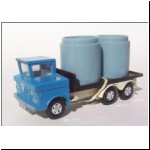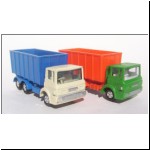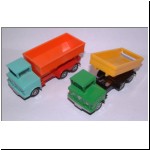 A new six-wheel chassis was introduced which could take either the Leyland gas turbine tilt cab or Foden half cab, and the Leyland 8-wheelers were discontinued. No.41 Builders Supply Lorry (with girders) then became a Foden six-wheeler, and no.44 Marine Transport Lorry (with boat) became a Leyland six-wheeler. New introductions (all six-wheelers) were no.43 Leyland flat truck with four water pipes, no.45 Foden flat truck with two giant pipes, no.46 Leyland with a metal dropside body, no.47 Leyland with a plastic high-side body, no.48 Foden with a plastic hopper body, and no.49 Foden with a plastic tipper body and hinged tailboard. These new Commercials only had a short production run and some of them can be difficult to find.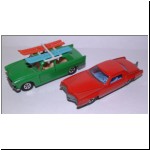 For

1975

, the Flyers also had some cost saving simplifications. No.12 Chrysler had the bonnet cast in the shut position, and the addition of a plastic roof rack and boat. The VWs (nos.15 and 20) had the rear door cast shut and no.15 had plastic luggage added on the roof. No.21 Fiat had the bonnet cast shut and a plastic roof rack with canoe. No.27 Ford Taunus had both bonnet and boot cast shut, as did no.28 Peugeot. They were both given roof racks, with surf boards on the Ford and skis on the Peugeot.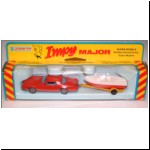 No.40 Cadillac Eldorado was finally introduced to the range, with no opening features, but it was given a roof rack containing four spare wheels. Costs were also kept down by using the same interior moulding as the Ford Mustang. A towing hook was later added to the base, and the model had a new lease of life from 1977 being sold in a set (no.185) with the Tuf-Tots boat on trailer.

The Commercials were all discontinued for 1976 and replaced by a simplified series using generic truck cabs on a six-wheel chassis. Ironically the Impy name was revived, but the models were a far cry from the original Impy concept of multiple operating features. I have not listed the trucks because I don't believe there is much collectors' interest in them, but you can find more details in Geoffrey Ambridge's book.


Also mentioned in his book are Flyers and Commercials given a plated finish, apparently to coincide with the 1977 Silver Jubilee. I have a plated Vauxhall Firenza (illustrated here) and there are other examples

in the book.

I am doubtful whether these items were ever put on general release - I certainly have no recollection of seeing them at the time, nor of seeing any at toy fairs in the intervening years.

Update - the plated models were apparently issued in Japan.

In contrast, a plated version of the Routemaster bus was released and is quite common.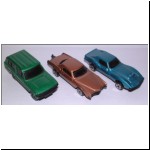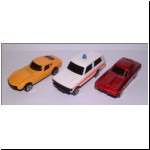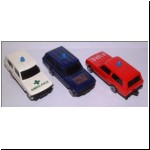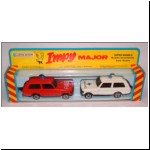 The Flyers cars were discontinued after 1976, and from 1978 a simplified Impy cars range appeared. The cars had all the opening parts cast shut, dark tinted windows so that interior detail could be omitted, plastic baseplates and a new style of wheel. No.71 was a new casting of a Range Rover - actually quite a good casting if you ignore the dark windows. This model replaced the Cadillac in set no.185 from 1980. No.72 was the old no.40 Cadillac; no.73 was the old no.38 Corvette Stingray; no.74 was the old no.13 Toyota. No.75 was a Police Range Rover with orange stripes and a roof beacon. A set containing Fire and Ambulance versions of the Range Rover appeared later,

and another set contained the Police Range Rover and the Merryweather Fire Engine.

No.76 was called 'GT Rally' - actually the old no.11 Corvette.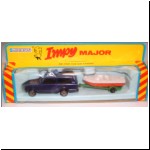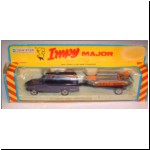 A special issue of no.185 was produced for the Royal National Lifeboat Institution for sale through their mail order catalogue. This consisted of a Range Rover with roof beacon and RNLI RESCUE on the bonnet, towing a boat.

At first the Tuf-Tots boat and trailer were used, later a larger trailer carrying a more realistic RNLI RESCUE dinghy.

It was still available in the mid-1980s.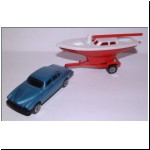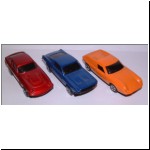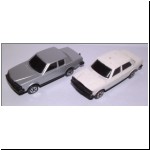 From 1979, the range was increased.

No.77 was shown in catalogues as a new model of the Jaguar XJ6, but in fact the old casting for no.10 Jaguar Mk.X was used. No.78 was the old no.9 Maserati; no.79 was the old no.39 Ford Mustang; no.80 was the old no.36 Lotus.
No.81 was shown in catalogues as a Volvo 264 Saloon, but the issued model was a Volvo 262 Coupe, and no.82 was a new Mercedes.

The Jaguar gained a towing hook in 1984 when it replaced the Range Rover in set no.185. It towed a plastic cabin cruiser on a metal trailer. The trailer was adapted from the RNLI version.




In 1980 the old no.30 Fire Engine was reintroduced, numbered 1252 and packaged as a London souvenir item, similar to the Routemaster bus. This lasted till 1984.

The 1983/4 trade catalogue showed a series of twelve 'Soccer Champs' (numbered 1621 to 1632), which were various Impy cars printed with stripes and the logos of twelve English football league teams. The cars involved were the Jaguar Mk.X, Volvo and Mercedes. Samples were obviously made for the catalogue photos, but I do not think these were ever issued, probably because Lone Star called in the receiver in 1983 - a victim, like so many British toy firms, of the 1980s recession. The toy division was sold as a going concern and production at Hatfield continued till 1988, then moved to the far east. The Impy cars and trucks did not appear after the 1983/4 catalogue.

Collectors would have shed few tears at Lone Star's final demise, because the best had already gone. The Impy and Flyers series was their most successful attempt at building a substantial range to encourage collecting and repeat purchases, and their prompt response to Mattel surprised many in the industry, but decline had set in after 1972.



A feature of many of the different styles of packaging was a list of other models in the series on the back, to encourage further purchases. These lists were frequently over-optimistic about the models available, and several items over the years were listed but never produced.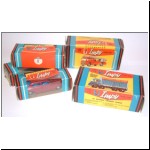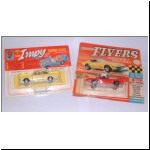 The first Impy cars were packed in small window boxes, little bigger than the models themselves. These were standard boxes with the model name and number overprinted on one or both end flaps. Boxes for the commercial vehicles were a similar style of closed box with a picture of the model instead of the window. Blister packs were also produced, and in this form 100 was added to the model number, for example the Ford Taunus illustrated is numbered 127.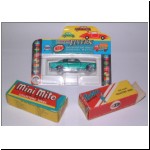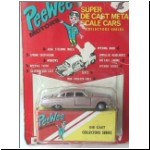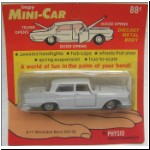 For the USA market, the Impys were boxed as 'Mini Mite Die Cast Collectors Series' for S.S.Kresge Co. and as 'Pee Wee Motors Die Cast Collectors Series' for Durham Industries Inc. Sometimes the box and model were both attached to a blister card, so that when the blister was opened you would still have a box in which to store the toy. Impys were also blister packed as the 'Impy Mini-Car' or 'Impy Mini-Trucks' series for Physio-Chem Corporation.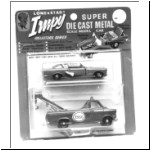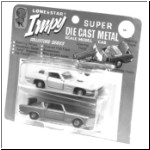 A series of Impy two-packs was produced, presumably for German speaking markets because they included the Mercedes 'Polizei' and Ford Corsair 'Feuerwehr'. They were numbered in the range

418

to 432 (see listing).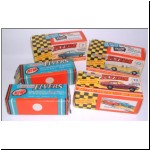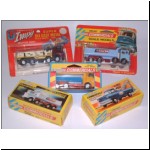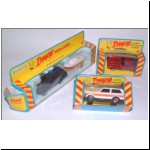 The first Flyers boxes were similar to Impys but with the window replaced by a red panel. A separate label was applied over the Impy name reading 'Lone Star Flyers. New! Low friction race wheels. Diecast metal. Made and printed in England.' These boxes were used for the Quaker cereal promotion, and were enclosed in a thick plain card outer box for sending through the post. New individual Flyers boxes were rapidly introduced with a picture of the model on the front, and again there was the alternative of blister packs. Commercials also had new boxes and blister packs on the introduction of Hi-Speed wheels. The 1975 Commercials had a new style of window box with a 1975 copyright date (or were blister packed), and the new Impy range had new window boxes dated 1976.

Flyers and Commercials were blister packed as 'Impy Litteltois' for the Dutch market, and surplus Litteltois packs were sold in the USA with a Flyers label over the Litteltois name. Some Flyers can be found in plain white card boxes with the model number, name and scale overprinted. These also come from the USA, possibly part of a promotion?


Another curious item is a Lone Star Flyers track set marked 'Made in Australia' - presumably a licensed use of the name by the importer.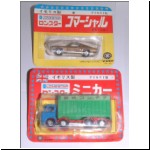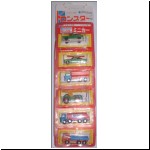 There was an extensive range of special blister packs and gift sets for Japan, often including plastic road signs and other accessories, and there were at least two Japanese booklet-style catalogues in 1969 and 1970, completely different from the leaflets available in the UK.

Acknowledgements and References


Particular thanks to the following people who have given me bits of Lone Star information in recent years or have allowed their photos to be used in this article: Geoffrey Ambridge, Roger Bailey, Vic Davey, Rod Greenwood, Akiko Hoshikawa and James Robertshaw. Also thanks to

Diecast Collector

and Ian Dorrell

for copies of trade catalogues.

The following websites are worth a look for more Lone Star information:
http://www.lone-star-diecast-bk.com/
http://members2.jcom.home.ne.jp/tomirinn/IMPY/
http://www.garyscars.co.uk/dcmt/index.htm
http://www.dfwbeckett.net/LSindex.html


* Reference:

The Bumper Book of Lone Star Diecast Models and Toys 1948-88

by Geoffrey Ambridge, published by the author, 2002.