Arro is one of those diecast toy makers about whom we know very little. We know that they made two rather nice diecast vehicles around 1948 - a Commer Van and Austin Seven Racer - but beyond that, the name has not turned up in any of my researches in trade magazines or directories, so there is no firm information about where they were based or whether there was any connection with other diecast toys.
The only clue that I can offer is that all the Arro vans that have passed through my hands seem to have come from Yorkshire. In 1986 I bought two pale blue vans from a well-known Yorkshire dealer; then in 1990 I found a maroon example in Simon Haley's shop in Halifax, and in 2002 I bought a very tatty light green van on eBay from a seller in Leeds. Maybe this is just coincidence, or is it possible that Arro was a Yorkshire based toy diecaster?

Further corroboration came in 2010 when I bought the blue racing car from the brother of the original owner, who came from Rochdale - a north of England connection seems certain!
Looking at the construction of the Arro vehicles, the wheels are their distinctive feature, being just about identical to Dinky toy wheels of the same era. The hubs have an inner ring, axles are as thick as on post-war Dinkies, and they have smooth black rubber tyres. The Arro wheel hubs are

usually

painted in the same colour as the model to which they are fitted

(except the blue racing car which has silver painted hubs)

, and painting was obviously done before assembly (i.e. the axles are not painted). Another nice feature of the toys is that both have mask sprayed silver paint trim, showing that rather more care and attention to detail was given in their manufacture compared with many other small diecast toy makers.
Details of the two vehicles are as follows.

1948 Commer Van
Length 92mm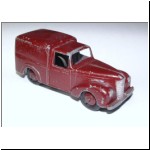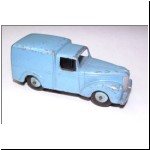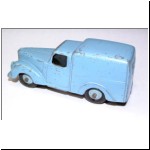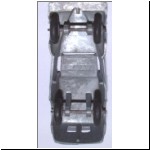 The Commer light van was derived from the Hillman Minx car, and the Minx Estate Car was the same shape as the van with the addition of a side door and windows in the load area. The shape modelled by Arro was used for the 1948 model year only. Earlier Minxes had separate headlights, while for 1949 there was a complete re-design with full-width body styling.
The Arro van is not too bad as a model, in fact the front view is very good, but from the side it looks rather squashed, since the length and height are out of proportion. The van is a single piece casting with no baseplate. At the rear are two open windows, and ARRO is cast under the roof. I have seen the van in pale blue, maroon,

red

and light green colours. Sprayed silver trim was applied to the radiator grille, headlights and front bumper.

Austin Seven Racer


Length 77mm
Again the Arro is a recognisable model, although not being an expert on racing cars I will leave it to others to say how good it is. The single piece casting has an exhaust pipe along each side, and ARRO is cast under the driver's seat position. I have seen the racing car in yellow, red, light green, off-white,

blue or light grey.

Sprayed silver trim was applied to the radiator grille and exhausts.
Both Arro models are rare and difficult to find. It is a shame that they didn't make anything else after such a promising start with these two realistic toys.
Update
Previously I updated this article with these photos of a catapult with the ARRO name cast on it. I now think this is an American item and not connected with the manufacturer of the diecast vehicles.