Put your mouse over the thumbnails to see a caption and click to see a larger image.




Welcome to www.robertnewson.co.uk
I am a collector, researcher and writer on the subject of cast metal toy vehicles, with particular emphasis on minor British manufacturers. As time permits, I intend to make many of my published articles available online on this website. You can also see a few items from my collection at the top of this page, or follow the links below.

NEW for 2019!
AGASEE, EEBEE, AIRCAST and L.BROOKS

- a photographic record of the products of these small diecasters.
NEW for 2017!
FARMING IN MINIATURE - FURTHER DISCOVERIES

is an online update with new information supplementing the acclaimed

Farming in Miniature

book.

Also new is an archive version of the Lone Star website created by the late Geoffrey Ambridge.
NEW BOOK - VOLUMES 1 & 2 NOW AVAILABLE!
Farming in Miniature is a fantastic new book about British-made toy tractors, implements and horse-drawn farm vehicles.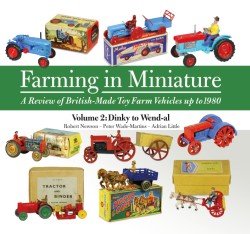 Published in two volumes, both available now.

Click here for more details.
Also online

is my comprehensive article on

LONE STAR IMPY, FLYERS and COMMERCIALS

previously published in

Diecast Collector

magazine:-

And

my articles on

CHARBENS VEHICLES

previously published in

Diecast Collector

magazine:-

And
see my Tootsietoy website for my re-working of Clint Seeley's classic articles on pre-war Tootsietoys:

Also online

is a new page with photos and listings updating my Benbros booklet:

And

some of my own articles previously published in print:
Other pages

on this site:
Visit the MSMC website with pictures of a few more items from my collection.
Contact me by e-mail.
The following are links to other interesting websites:



CLUBS

FORUMS




MODEL BUS WEBSITES





MANUFACTURERS





MUSEUMS





MAGAZINES





EVENTS



AUCTIONS




COLLECTORS' PERSONAL SITES




ITEMS FOR SALE




© Robert Newson