DIE CASTING MACHINE TOOLS LTD., formerly at the 'River Works', 152, Green Lanes, Palmers Green, London, N.13., England.
The origins of what later became DIE CASTING MACHINE TOOLS LTD., (otherwise known as D.C.M.T.) began in 1939. Its premises were a large lock-up garage situated immediately beneath the petrol filling station forecourt of 'The Bridge Garage' in Green Lanes, N.13., north of the A406 North Circular Road. It is also understood that, in 1941-42, the Company temporarily used other or additional premises at Pembroke Road, Muswell Hill, London, N.10., for the production of zinc-alloy ('Mazak') die castings which, among other things, included parts for hand grenades.
The founder, the late Aubrey Robert "Bob" Mills, apparently working alone in a lock-up garage, probably the same as that mentioned above, designed and built his first die casting machine which, it is believed, he sold for a profit of £100. With a partner, the late Sidney James Ambridge, 'Bob' Mills began to build more machines and registered the firm's name Die Casting Machine Tools Ltd. The original offices of the fledgling company were situated above a small parade of shops next to 'The Bridge Garage'.
By 1947-48, DCMT acquired more than half of the floor area of the 'River Works', as pictured above. This was situated on the south bank of the New River, about 100 metres north of the original lock-up garage. The latter premises were retained by DCMT for the production of plastic / vinyl mouldings in later years. In their search for a brand name for DCMT's metal toys that would be more appealing to a juvenile market, rather than the name "DCMT" itself, the founders decided for some obscure reason to use the name "Slikka Playthings" or sometimes "Slikka Toys".
The remainder of the floor area of the 'River Works' was soon acquired as production of DCMT's toys steadily increased and, by 1949, there began a keen demand for Western Cowboy products of all kinds, especially authentic looking die-cast metal pistols and rifles. And so it was, that the 'Wild West' craze in the U.K. began, probably as a consequence of the screening of the film "Shane", starring Alan Ladd and Jack Palance, and the many Western films and TV series that followed it. The brand name "Slikka Playthings" was nondescript and seemed inappropriate for DCMT's wide variety of Western-themed products and so the name Lone Star with its connotations of Texas and the 'Wild West' generally, was chosen to supersede it.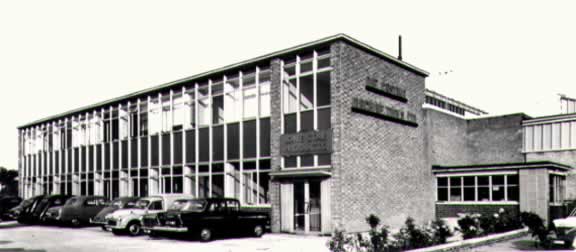 DIE CASTING MACHINE TOOLS LTD., Formerly at 168 Great North Road, Hatfield, Hertfordshire, England.
By 1956, a brand-new purpose-built factory of 37,000 sq. feet floor area, was opened by DCMT/LONE STAR at Birchwood Industrial Estate, 168 Great North Road, Hatfield, Hertfordshire, to cater for the ever-increasing demand for its toy and model products. By 1957, there was the 'DCMT Sales Corporation' in New York City and, since 1946, DCMT had been affiliated with die-casters 'Ambrit Industries' of Glendale, near Los Angeles, California.
Around 1958, another factory, registered as "A.G.M. Industries" (Ambridge, Gower & Mills) under the direction of the late Reginald Gower, at Holloways Lane, Welham Green, near Hatfield, Herts., was also acquired by the Lone Star Group.
A former employee who worked for Lone Star Products Ltd., and later Lone Star Toys Ltd., at the 168 Great North Road, Hatfield site, supplied some interesting facts about the management structure during the final eight and a half years of the 33-year history of the factory. She wrote:
"Starting in December 1979, I was (part-time) secretary to the Company Secretary/Finance Director, Mr. J.E. Rayner who, incidentally, was in charge of the Green Lanes factory; at the time there was also a factory and offices at Welham Green and at 168 Great North Road, Hatfield, where I worked. There was also a subsidiary company 'Californian Screen Blocks Ltd.', which made reconstituted stone (ornamental) garden walling, blocks, bowls, etc., at a factory near Wareham in Dorset, England and (also) 'Eaglet Industries Ltd.,' at Hatfield, an associated company (of DCMT). I have two photographs of the Great North Road factory/offices, taken in 1988, before it closed down. The buildings were demolished and, with the adjoining site, it is at last (in September 1999) being redeveloped.
Over the years, first the DCMT Palmers Green factory closed, followed later by Welham Green; the DCMT and Welham Green functions were mostly relocated to Great North Road. Mr. E. A. Burks was Chairman and A. S. Perrin, the Managing Director.
In October 1983, the DCMT Group went into Receivership. I worked temporarily for the Receivers and, with the other employees, was made redundant in November; I was then invited to work for a 'new' company Wicke & Co. GmbH, from whom LONE STAR PRODUCTS LTD. had purchased caps for their toy guns. Over the years, particularly after a northern (U.K.) company, Leigh & Sillavan, took over the Group, L.S.P. had increasingly imported ready-made goods from Taiwan, etc. Again I was part-time secretary to the Finance Director/Company Secretary, Mr. J. A. Worrell. M.J. Bucher was the new MD, who eventually left to be replaced by a new MD, Peter Craig, who unfortunately set about a repackaging exercise with the all-important January Toy Fair looming. Later Sohni Esco, a company in Wetherby, Yorkshire, England, bought the product range and machinery was shipped to China for the toys to be made there - thought to be more cost-effective. Everything remaining at the factory was auctioned (a very sad day for the remaining staff) and it finally closed in June 1988. Again all employees were made redundant.
DCMT of course made machine tools at Palmers Green; continued at Hatfield and was run by Robert Sheridan Mills, son of one of the original founders...My years with L.S.P. & L.S.T. were very happy and I loved the atmosphere of the factory...For the last few years, I was a one-woman Customer Services Department...I particularly enjoyed this work.
Latterly Tony Worrell became MD as and when Peter Craig left, so there was that work as well. I have a copy of a book - "Lone Star: the toy company and its model cars" - by Andrew G. Ralston (1998) ISBN: 1 900482 14 2, which is mostly about the products but has some information about the companies and Directors."
Mrs. R.B.


Mr. A. S. Perrin, Sales Director and later Managing Director wrote: "Apart from DCMT, AGM and Lone Star Products (which started out in the late 1940's as Toys & Houseware) other Companies in the Group included International Junior Aero Club ('52), Eaglet Industries ('60), Treble-0-Trains ('61), Father Christmas Workshop ('68), and Angelino Arts ('68).
DCMT started in 1939 (July, I believe) and AGM in 1944. All companies were wound up in 1983 when the Group went into Receivership. The Palmers Green factory (152 Green Lanes) was sold in 1981-82 to a Chemist's Sundries company. The factory in Holloways Lane, Welham Green was sold in 1983 (to be vacated by June 1984). The Hatfield factory, at 168 Gt. North Road, taken over by a German company, Wicke & Co., finally closed down in 1988 when production moved to Hong Kong. Californian Screen Blocks Ltd. of Wareham was sold in 1983 to a brick-making company and, as far as I am aware, is still operating on the same site under its parent company's name.
Bob Mills was a brilliant man but as fast as the Company made money, so it was spent on far-fetched ventures. "Steve Larrabee" (DCMT's staff actor/cowboy) and the "Lone Star Road Show" were expensive, as well as (production of) the Lone Star comic! In 1959-60, we brought out "Treble-0-Lectric" trains, tooling up for which ran into six figures or more. Here, we were unlucky as it coincided with the introduction of road-racing "Scalextric" and electric trains took a nose dive.
Just prior to 1961, A.R. Mills' son, Robert Sheridan Mills came into the firm....and he spent many years in Palmers Green with John "Bunny" Brooman until "Angelino Arts" was set up and which R. S. Mills ran, as well as handling sales of die-casting machines. In 1961, a second floor was added at the Hatfield factory to house the Admin. staff (Sales and Accounts) paid for by the New Towns Commission, DCMT's Landlords.
Let me know how you get on with your book.
Stan Perrin


Founder Directors, A. R. 'Bob' Mills and Sidney J. Ambridge died in 1973 and 1980 respectively.